by Jacob Robinson @JRobinsonWoN
Each passing year, the quality of anime on Netflix gets better, and the number of anime titles arriving continues to grow. Twenty-twenty has been a stacked year so far, and 2021 is already beginning to take shape as another excellent year for anime on Netflix. We'll be keeping track of all of the latest announcements and upcoming anime coming to Netflix in 2021.
N = Netflix Original
Yasuke (Season 1) N
Netflix Release Date: April 29th, 2021
Studio: MAPPA | Episodes: 6
Yasuke, known to history as the world's only Black Samurai, is famous amongst Japanese historians. Cannon Busters creator LaSeasn Thomas will help bring the Black Samurai to life, and providing his voice will be Lakeith Stanfield.
In a war-torn feudal Japan filled with mechs and magic, the greatest ronin never known, Yasuke, struggles to maintain a peaceful existence after a past life of violence. But when a local village becomes the center of social upheaval between warring daimyo, Yasuke must take up his sword and transport a mysterious child who is the target of dark forces and bloodthirsty warlords.
Eden (Season 1) N
Netflix Release Date: May 27th, 2021
Studio: Qubic Pictures, CGCC | Episodes: TBA
Previously believed to be coming to Netflix in the Fall of 2020, the series has instead been moved to May 2021. Eden has been directed by Yasuhiro, the director of Full Metal: Alchemist, so by default, it could be one of the best anime releases of 2021.
One thousand years in the future, the city "Eden 3" has no human population, and is solely inhabited by robots. The human masters of the robots disappeared many years ago. Two farming robots, while on a mission outside of Eden, discover a human baby girl. Realizing that the ancient myth of humans is real, the two robots take in the little girl and raise her together in a safe haven outside of Eden.
Sailor Moon Eternal Parts 1 & 2 (2021) N
Netflix Release Date: June 3rd, 2021
Studio: Toei Animation, Studio Deen | Runtime: 160 Minutes
Having only arrived in Japanese theatres in early 2021, it's a quick turnaround for Sailor Moon Eternal to make its way over to Netflix in June 2021. Fans will be very happy to learn that the Viz Media English dub cast will be returning to reprise their roles for the movie.
When a mysterious solar eclipse happens in April, Sailor Moon and Chibiusa meet Helios, a mysterious Pegasus who is looking for two maidens to break the seal of the Golden Crystal. Meanwhile, the group known as the Dead Moon Circus has plans to conquer the Earth, the Moon, and eventually the universe by obtaining the Legendary Silver Crystal.
Godzilla Singular Point (Season 1) N
Netflix Release Date: June 2021
Studio: CG Orange | Episodes: 13
Netflix subscribers are going to be treated to another dose of Godzilla as the classic kaiju returns to the streaming service in 2021 with a brand new anime series. Behind the animation is Beastars animations CG Orange, and designing the legendary creature is the highly acclaimed Studio Ghibli artist, Eiji Yamamori.
Beastars (Season 2) N
Netflix Release Date: July 2021
Studio: Orange | Episodes: TBA
Beastars set the anime community alight upon its release in late 2019 and has since become one of the most popular series to be streamed on Netflix. Continuing to be aired in Japan, once the series has finished its broadcast, fans can look forward to the series return to Netflix in July 2021.
In a society of anthropomorphic animals, the culture is divided amongst herbivores and carnivores. At Cherryton Academy, Legosi, a large but timid and quiet wolf is a member of the school's drama club, working as a stagehand. The club is run by the star pupil Louis, a red deer. After the death and devouring of a student, the alpaca Tem, a wave of distrust rocks the school as the herbivores and carnivores are at odds. To make life even more complicated for Legosi, he has a fateful encounter with the dwarf rabbit Haru and soon develops very complicated feelings for her.
Resident Evil: Infinite Darkness (Limited Series) N
Netflix Release Date: July 2021
Studio: TMS Entertainment | Episodes: TBA
Rumour surrounding a potential Netflix anime for Resident Evil had been circulating for some time, but typically, those rumors were often dismissed. Now it's been confirmed that Resident Evil: Infinite Darkness, is coming to Netflix, and as early as 2021. The series will take place in the same canon timeline as the video games.
The Seven Deadly Sins (Season 5)
Netflix Release Date: Late 2021
Studio: Studio Deen | Episodes: TBA
With the manga coming to an end, we could expect to see The Seven Deadly Sins anime draw to a close with the fifth season. There are still plenty of climactic fights to come, but fans will be waiting until towards the end of 2021 before the fifth season is available to stream on Netflix.
Meliodas, Elizabeth, Hawk, Dianne, Van, King, Gowther, Merlin, and Escanor are standing against the flames, a mighty enemy, and a visual depicting the members of the Seven Deadly Sins confronting their destiny.
Baki Hanma (Season 1) N
Netflix Release Date: 2021
Studio: TMS Entertainment | Episodes: TBA
The series can be treated as part four for the Original Baki series already available to stream on Netflix. But, judging by the press release made by TMS Entertainment, it looks like the animation team is going all out to give us an epic finale to the Baki Hanma storyline.
In the grand finale, Baki Hanma will finally face his father in deadly combat to determine who is the strongest martial artist in the world.
TRESE (Season 1) N
Netflix Release Date: 2021
Studio: BASE Entertainment | Episodes: TBA
The highly acclaimed Philippine horror/crime has finally been confirmed it's on its way to Netflix in the near future. We have high expectations for the series, and we can't wait to see what Jay Olivia and BASE Entertainment have in store for us.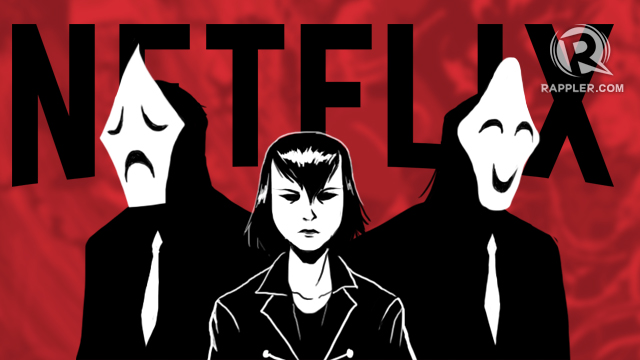 Spriggan (Season 1) N
Netflix Release Date: 2021
Studio: David Production | Episodes: TBA
Fans of Spriggan have been waiting many years to see a new adaptation of the popular 80s manga. The last time Spriggan received an anime adaptation was in 1998, and a subsequent PlayStation video game was released in 1999. With the series set to arrive in 2021, fans have been rewarded for their patience.
Many years ago an ancient civilization once ruled the Earth but ultimately destroyed themselves. Leaving messages to future generations to find, they detail how to use the powerful creations they used. Various factions begin to search for mysterious artifacts in the order to use them against their enemies. Standing in their way is the ARCAM Corporation and their elite squadron of soldiers known as Spriggans.
Rilakkuma's Theme Park Adventure
Netflix Release Date: 2021
Studio: San-X | Episodes: TBA
The cutest stop motion Bear from Japan is coming back to Netflix in 2021! This time Rilakkuma, and his companions will be going to an amusement park after dark. With a spooky sounding setting, we could see Rilakkuma return to Netflix just in time for Halloween 2021.
Thermae Romae Novae
Netflix Release Date: 2021
Studio: NAZ | Episodes: TBA
Mari Yamazaki's niche comedy-adventure about a time-traveling Roman architect is certain to make anime fans laugh in 2021.
Roman architect Lucius is troubled by an issue, only to discover an old tunnel that leads to a modern Japanese bathhouse. Inspired by what he's seen, Lucius decides to open his own spa, naming it, Roma Thermae.
Vampire in the Garden (Season 1) N
Netflix Release Date: 2021
Studio: WIT Studio | Episodes: TBA
Once, vampires and humans lived in harmony. Now, a young girl and a vampire queen will search for that Paradise once again. In the divided world of the future, two girls want to do the forbidden: the human wants to play the violin, and the vampire wants to see a wider world.
Ultraman (Season 2) N
Netflix Release Date: TBA
Studio: Production I.G. | Episodes: TBA
It was confirmed in June 2019 that we were going to see the second season of Ultraman on Netflix. It's been a long time since the announcement and we're yet to see season 2 on Netflix, which means 2021 is when the fabled Japanese hero is likely to return.
Many years have passed since the events of the original Ultraman. Now perceived as a memory the legendary 'Giant of Light' is believed to have left earth and returned to his home planet. Shinjiro Hayata discovers that his father was the Ultraman. Taking the mantle from his father Shinjiro becomes the new Ultraman of the earth.